Being the leading company in product quality, capacity size and reflecting technological developments on production stages and attaches importance to environmental factors in its investments, Nuh Çimento Sanayi A.Ş. has made a name for itself in the whole world.
It aims to constantly improve its activities to eliminate negative impacts on the environment and prevent pollution. It will systematically monitor the environmental performance by means of TS EN ISO14001 environmental management system integrated to other management systems.
Comply with all applicable regal requirements for environmental aspects,
Use all resources required for our production activities at optimum level,
Fulfill the responsibilities for systematically storing and disposing of all kinds of wastes arising from our activities,
Continuously carry on our training and inspection activities to raise awareness and sensitivity of all suppliers and visitors on our site for the environment,
Constantly track and evaluate impacts of our products on the environment,
Ensure that wastes, which have no negative impact on our product quality and no harm to the environment, are demolished and protect receiving environments,
Establish continuous cooperation with social organizations engaged in environment, actively participate in their activities and use our experiences and knowledge about environment for common good,
Evaluate environmental hazards and their results, take necessary measures in time and concentrate on preventive actions,
Be ready for taking measures against possible environmental accidents and prevent accidents, with regard to our company's activities as well as the activities of neighboring organizations,
Take an active role in environment greening activities,
Ensure that established environmental management system is effectively maintained and improved,
Fulfill its responsibility to achieve its purposes and targets as planned.
We undertake to;
Environmental factors are always taken into account for every renewed vehicle and equipment and new investments.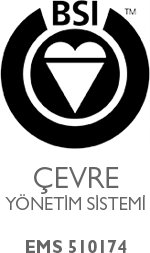 Nuh Çimento Sanayi A.Ş. initiated procedures for ISO 14001 certification with BSI (British Standards Institute) in 2007 and obtained ISO 14001 certificate from BSI in the beginning of 2008 and thus integrated environmental management system, which is a sign of the common and standard language of the whole world, into our plant.
Nuh Çimento Sanayi A.Ş. has made an impression with its ambitious and determinative environmental policy and thus enhanced its standards and proved the importance it attaches to the environmental management system.
Environmental Waste Disposal Unit
---
We ensure disposal of hazardous and non-hazardous waste in the market and energy recycling by using alternative fuels and prevent their controlled and uncontrolled storage. On the other side, we make use of calorific values of wastes and make profit from coal, which is our main fuel. Thus, use of natural resources is decreased.
Incineration processes are carried out in accordance with legal requirements and the arising emission is tracked by means of online flue analyzer. The generated ash is mixed with semi-product and then with cement and thus solid and liquid waste generation is prevented.